USA Softball Stand Beside Her Tour PLAY BALL Event - University of Arizona Baseball/Softball · Any Novice
MonTueWedThuFriSatSun 10:00am to 12:00pm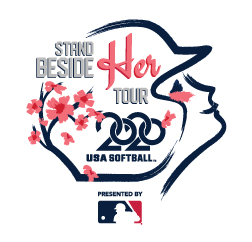 Come PLAY BALL with Team USA and University of Arizona and National Team Alumna, Jennie Finch!
When: Tuesday, February 18, 2020 - Registration Open at 9:30am - Event begins at 10:00am
Where: Rita Hillenbrand Memorial Stadium, The University of Arizona, 1700 E 2nd St, Tucson, AZ 85719
Whom: Kids between the ages of 5-12
No baseball/softball equipment is necessary! Dress in athletic attire suitable for the weather.
All participants will receive a free PLAY BALL T-shirt, wristband, and bat and ball set to take home.